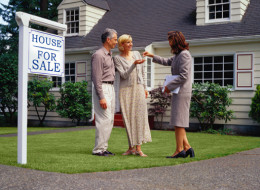 There's been plenty of discussion in recent years over whether Canada's seemingly unstoppable house price hikes are a sign of a real estate bubble destined to come crashing down.
But in an analysis at the National Post, Garry Marr sees a different kind of bubble: A real estate agent bubble.
Citing numbers from the Canadian Real Estate Association, Marr points out there are now more than 108,000 realtors in Canada, up from slightly more than 60,000 in 2000.
In Toronto alone, the number of realtors has doubled in that time, to 39,000 from around 20,000 at the turn of the century.
"We have almost as many people selling houses as making them," Marr writes. "Statistics Canada said in its labour force survey for the year 2013, there were 131,000 carpenters. There are only 202,200 cooks in Canada."
But it's not just realtors: Employment and investment in real estate-related businesses has been very strong, perhaps too strong to be justified by economic fundamentals.
The number of people employed in construction hit a record high in the past few years, in records going back some four decades. Some 7.6 per cent of Canadians were employed in construction, compared to a long-term average of about 5 per cent. Meanwhile, the number of people employed in manufacturing hit a record low last year.
So what's behind this? The simple answer is soaring house prices. The more detailed — and perhaps worrisome — answer is that Canada appears to be undergoing a distortion of its economy.
Something happened to the economy during the last economic crisis. Capital stopped flowing to manufacturing and started flooding into real estate.
With the U.S. economy in a slump, no one was expecting a renaissance of exports to America. Meanwhile, record-low interest rates made mortgages more affordable, demand picked up and prices soared. In that economy, an investor would naturally take their money out of manufacturing and other struggling areas and throw it into real estate. Except now this process is beginning to make Canada's economy heavily reliant on real estate.
And the problem with that, as many economists point out, is that when a slump inevitably arrives in the housing market, it will take down a disproportionately large number of jobs. Putting its eggs in one basket could cost Canada in the long term.
The banks are contributing to this problem as well, at least according to the International Monetary Fund, which declared last year that Canadian banks "lend too much to mortgages and too little to small and medium enterprises."
That, in part, helps explain why manufacturing is in such a slump that Canada has been losing four per cent of its factory jobs, on average, every year since the recession.
Bank of Canada Governor Stephen Poloz is optimistic that the "great export turnaround" is just around the corner — the U.S. will start buying more of Canada's stuff and investment will return to manufacturing and exports.
But the latest data shows little evidence this is happening, at least for now. And the housing market has become so lucrative that no one wants to disturb the money-making status quo.
As Marr points out, with a single-family home in Toronto how hovering around the $1 million mark, the two realtors involved in a transaction stand to split $50,000 between themselves on a single house.
Meanwhile, the economists at the mortgage-lending banks continue to insist there is nothing wrong with the amount of housing construction, and nothing unaffordable about current house prices.
Let's hope they're right, otherwise Canada's economy will have written a cheque it can't cash.